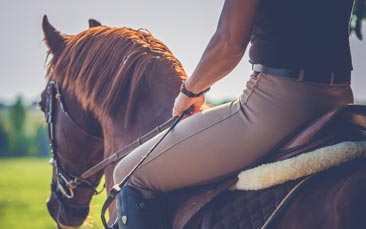 Our Barcelona hen party cowgirl training is a day packed full of laughs, new adventures and stunning scenery. So mosey on down and show your true grit. If you've never 'moseyed' before you really should try it sometime!
The session will start by our friendly team picking you up from your hotel and taking you to the stunning site that really does feel like the sun-kissed Wild West. You'll need to arrive 30 minutes early for registration and get your group ready for the action.
You'll learn three great skills under the guidance of our English speaking instructors. There are three new skills for you to learn:
Horse Riding - This is really ethical and the only place in the region where you can ride horses without bits or shoes which keeps the horses calmer. You'll also be riding in super comfy, authentic Western-style saddles. Like rootin' tootin' cowgirls. "Yeehaw!"
You'll be riding in some gorgeous countryside so have your cameras at the ready.
Lassoing - Yes you can drive a car, surf the internet, program Sky+ but how have you managed to get through life without lassoing stuff? Lost shoes, distracted boyfriends, small children, and when you're out of reach bottle of wine. Well, struggle no more ladies. This is hilarious fun.
Target Shooting - Another skill you've probably wanted in your life, like the last time you saw someone in the 10 items or less queue with a packed basket. Get rid of all that frustration by splatting targets with high powered paintball guns. A friendly hen vs hen competition.