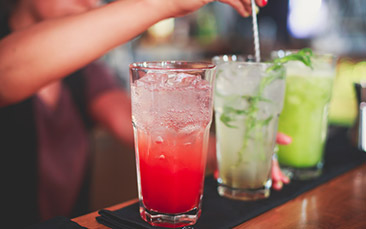 Forget your run-of-the-mill sightseeing tours, you're on a hen do for crying out loud! If you're going to do some sightseeing, you're going to do it in style. That's right, from a rooftop bar, with a cocktail in hand. The Barcelona Hen Party Rooftop Cocktail Crawl is an amazing way to see the city as you and the girls bask in the Spanish sunshine with a delicious boozy beverage. Does it get any better than this?!
Your friendly guide will meet you at a selected venue or at your accommodation and then take you on a tour of three of the city's best rooftop bars before you end your night with entry into one of the hottest clubs about. You'll also get a free cocktail in each bar! "To think we nearly booked a weekend away in Skegness!"
Each of the rooftop joints you visit will have stunning views over this spectacular city and you and the girls will get to kick back and relax before you carry on the party long into the night. The tour will last three-to-four hours before you get your fiesta on and hit the dancefloor. The bars and clubs you visit will depend on availability, but they will all be centrally based so you won't end up in the middle of the back and beyond.
We've all been there, in a new city, no idea where the best bars are, you end up in some dive whilst the party's popping off elsewhere, well not this time! Take the hassle and stress out of proceedings by booking this totally fab and utterly epic rooftop bar crawl.
After your amazing night on the town, treat the bride-to-be and tend to those sore heads with a nice relaxing Pampering Day. Though, if you wake up feeling fresh you could dance on down to the beach and sun yourselves whilst enjoying some great Beach Games. Speak to a member of our lovely team today for more info about creating that fab weekend away in Barcelona.