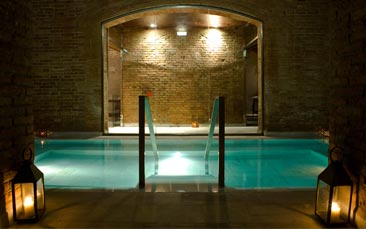 Many hen parties are perhaps guilty of a little excess, that one glass of wine too many, the last round of cocktails, the 2am decision that what you really needed was a tube of Pringles, a family bag of Maltesers and a 12" deep pan pizza. With extra cheese. Thankfully in wonderful Barcelona, you can literally wash away your hen party binge sins at this incredible and historic Arabian baths.

Having had influence from both the Roman and Moorish occupations of Barcelona this wonderful spa offers therapies and relaxation rooms that date back hundreds of years, all with a modern Spanish twist.

This luxurious Barcelona hen party spa retreat has been fashioned out of underground cellars right next to the beautiful Parc de Ciudadela. Relax in the traditional Arabic Hammam, with its thermal baths. Here you can sweat out all those bad toxins and have a chance to rejuvenate with the girls. Take a dip in the tepidarium, which is maintained at 36 degrees Celsius, followed by a trip to the caldarium (40 degrees) and finally get the blood flowing in the frigidarium (16 degrees!).

This is essentially a mix of three cultures, mixing the very best in ancient old modern beauty treatments. As well as being able to enjoy all the different facilities each hen will be given a 15-minute full-body aromatherapy massage.

For the bride-to-be, in particular, this is the perfect way to relax and unwind after weeks of often quite stressful wedding planning. It is also a fantastic way for all the hens to open up those pores and refresh the dermis and epidermis ahead of the big wedding day itself.

You can hire towels at the site or take along your own. It's also situated wonderfully close to the cities best shopping district if you want to follow up your treatments with a little retail therapy. This really is the perfect hen party spa in Barcelona and a unique way to pamper yourselves ready for the wedding.