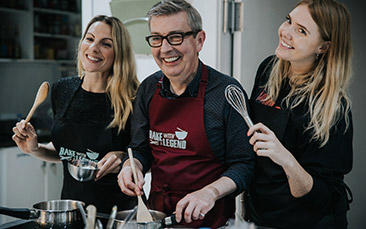 If like the team here at GoHen, you and the bride-to-be are complete cookery show addicts who want nothing more than to get knead deep in a fun baking challenge then this is the perfect, sticky-fingered, multi-layered, fruit-laden, iced treat!
You really don't need to be an expert baker; the day is perfect for baking virgins who really want to give it a go. With a recognisable face from TV cake-dom hosting you for the day, those hens that do have baking knowledge will be able to improve their skills and learn all kinds of handy baking tips and tricks.
The session begins with a meet and greet with your baker as you all enjoy a welcome glass of perfectly chilled bubbly. During this time the expert will show you how it's done with a demonstration of the bake you'll all be attempting. You'll then pair up and work in your teams to recreate it.
Your guest baker will judge all your work and award a prize for the day's best bake. You can sample your own and each other's bakes if you wish and judge each other's icing, sculpting and flavours.
There are soft drinks and snacks available throughout your session plus a kitchen assistant to help with things like washing up and to will be on hand to assist the bake-crazy pairs.
During the afternoon your baker will answer questions about their baking skills and baking experiences and give tips and advice.
Bakers include:
Jane Beedle
Ugne Bubnaityte
Julia Chernogorova
Ian Cummings
Glenn Cosby
Sandy Docherty
Paul Jagger
Beca Lyne-Pirkis
Howard Middleton
Andrew Smyth
Kimberley Wilson