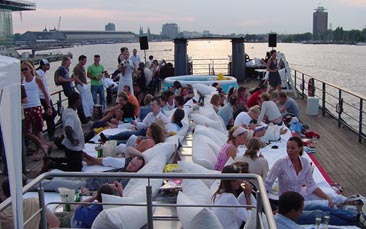 There are few greater party cities in the world than wonderful Amsterdam, and there's just something about those crazy Dutch folk, one thing is for sure, they REALLY know how to party!
Our Amsterdam hen weekend party cruise is a great example of just why the Netherland's is considered such a fun nation. Imagine your average UK party, times it by ten, add a live act, pour on some sparkles, put it all in a box with some fizzy lemonade, add a few glasses of Dutch courage, shake, stir and PARTY!!! Yep, our lovely Euro-cousins really are a good time gang.
The party cruise will begin the moment you set foot on the gangplank and are greeted by the fabulous staff, who will show you to the lounge area. You can get comfy and enjoy a few drinks as the boat sets sail. Once underway you'll have a sumptuous five-course meal and amazing live entertainment. The show will be followed by live DJ's to keep the party going until 1am (the boat docks around 11pm allowing the Amsterdam party people to join in the fun.
The live shows are a great mix of variety and different nights may include:
Burlesque performers
Jazz/blues singer
Pole dancer
Electronic violinist
Tribute acts/bands
Cabaret
Ballet
Art
(please note, shows do vary from evening to evening)
Once the boat docks you're free to continue partying on board or we can help arrange Guest List Nightclub Entry at one of the city's hottest clubs.