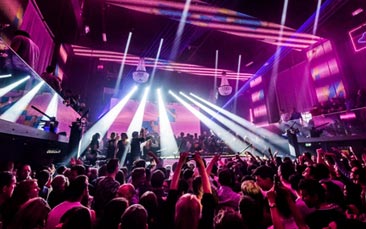 This one does exactly what it says on the tin. It's dinner and dancing, the perfect combination for a fab hen night in this party-loving city. Forget trudging about in those heels trying to find somewhere to cater for you all, take the hassle out of proceedings and book up our brilliant Amsterdam Hen Do Dine & Dance!
You and the girls will be relaxing in the restaurant of one of Amsterdam's hottest clubs. Your table will be reserved and waiting for you and your meal will be pre-paid, so you won't need to go all Rachel Riley when the bill arrives, trying to work out who owes what, leaving you more time to focus on giving the bride a fantastic night out. After your meal, you'll each get a tea/coffee to re-energise you before you get ready to hit the dance floor. Though, if you'd rather, the bar offers a fantastic selection of cocktails if any of the hens feel like keeping the party going through dinner.
After that, it's dancing time. You'll have guest list entry straight through to the club so you and the girls can get going, throwing outrageous shapes until the early hours.
Menu (Please note, this is a seasonal menu and selections may vary)
Starters
Carpaccio - truffle mayonnaise, Beemster old cheese, rocket, pesto, croutons
Goat cheese - toasted Amsterdam sugar loaf, walnuts, pear-compote
Salmon tartar - cream of chive, lemon mayonnaise, fried egg
Tomato soup - foam of basil
Mains
Tournedos - pan-fried in garlic herb butter, gravy, onions mushrooms, bread, fries
Chicken satay - Javanese peanut sauce, fresh pickled vegetables, fries, prawn crackers
Gilt-head bream - pan-fried spinach, roasted cherry tomatoes, beurre blanc sauce
Vegetarian pasta fungus, truffle, Parmesan cheese
Desserts
Dame blanche - vanilla ice-cream, whipped cream, hot chocolate sauce
Poached pineapple - vanilla curd, honeycomb, red fruit sauce, coconut
The club itself is typically Dutch and effortlessly cool. This isn't your cheesy 80's disco, these are proper beats for people that love to dance and love proper tunes…
"Because we came to party!"