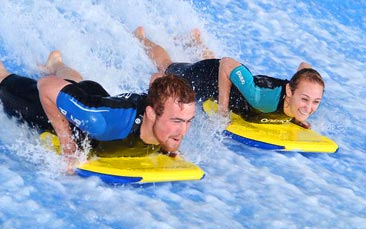 You could be in leafy Surrey, balancing cucumber on your eyelids while wrapped in seaweed porridge and drinking pine cone tea. But you're not, you're uber cool beach babes, that's why you're in the Algarve, trying surfing for the very first time. In a bar!
Yeah, that's right, you're so cool you don't even need to be stuck on the beach to try a new beach sport. You can do it in a bar, sloe to some nice ice cool beverages.
If you've never heard of static wave surfing before the premise is pretty simple. Rather than surfing on a beach (sand, noise, salty water and we've all seen Jaws right?), you get to surf in a specially designed flat pool. The pool has a padded floor for soft landings and a slight curve, water is then pumped at an incredibly high speed to create a moving wave of water that you can surf on and as the water is moving under you, you stay in the same place. Brilliant.
If you're not sure you can master a surfboard you can try bodyboarding which is much simpler and doesn't mean you have to stand and keep your balance. That makes this an activity all the hens can try, plus as you'll take it in turns you can take photos/videos of each other in action. And if you get thirsty during the event, you can just head straight to the bar afterwards.
This really is something a little bit different, a chance for the girls to try something totally new while not putting anyone totally outside their comfort zone, because it's always comfortable in a bar and you'll all be in it together. So, surf's up baby!