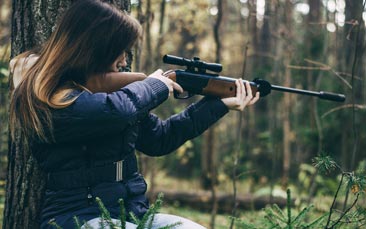 Why should the stag party have all the fun? Yes, some hens might be happy sitting in a Jacuzzi, balancing cucumber slices on their eyelids but you're looking for action and this is definitely it.
Your own adrenaline-pumping big bang theory will begin with the friendly instructors giving you a quick safety briefing ("Try not to shoot anyone…"). After that, you'll see the targets and pick up the rifles. The guns are fitted with telescopic rifles to improve accuracy and the team will be on hand to give you all some instruction to help improve your aim. You'll begin shooting at some suitably daft targets. Things will gradually increase in difficulty until you'll need sharp eyes and nerves of steel to hit the final sniper targets.
One of the joys of air rifles is that it gets all the hens outdoors trying something totally new that they won't have tried at other hen weekends. It also keeps all the hens together, you won't all be running around separately or in teams but will be together throughout the session and get to watch each other shoot so you can see who is the weekend Top Gun and who couldn't hit Big Ben with a bazooka.
Things get even more exciting at the end of the session with the final target which is explosive. Your very own big bang theory, however competitive hens will be eager to know that there is only one exploding target so the first hen to hit it wins.