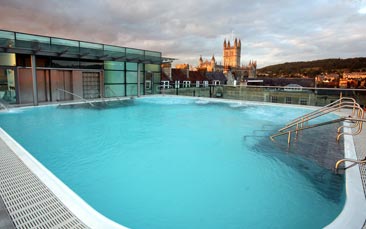 We've arranged enough hen parties to know that organising your wedding day can be pretty stressful, to say the least. Sometimes the perfect tonic after all that planning is to just switch off and drift away and where better to do so than Britain's only natural thermal spa? By day or by night, you can relax in Bath's famous rooftop pool, fed by naturally warm, mineral-rich waters, and take in breathtaking views of the world heritage city.
Stunning...
This stunning spa is made up of a state-of-the-art Wellness Suite and two spectacular baths. Enjoy the waters as you take in incredible, panoramic views of the city skyline from the rooftop pool, and rest and revive in the Minerva Pool downstairs which features a lazy river and an invigorating massage jet. Not every bride-to-be gets to wash away their wedding worries in waters that are naturally heated within the Earth's crust!
Rejuvenating…
A spa trip is also the perfect chance to have a detox and rejuvenate the skin ahead of the big day. In the Wellness Suite, you and the girls can enjoy a special, sensory experience as you breathe in various gorgeous aromas and step into different environments. You'll have access to the following facilities:
Experience Showers
Ice Chamber
Infrared Room
Roman Steam Room
Georgian Steam Room
Celestial Relaxation Room
Refreshing…
You can also stop by the spa's Spring Café for a quick refreshment. After all, how often do you get to sit in your dressing gown in a restaurant, while still looking decadent and classy? Have a cup of tea or tuck into some delicious food as you watch the bustling city of Bath below.
Unmissable…
If you're looking to treat the bride-to-be to a truly unique experience and enjoy some quality time with the girls, then Bath Thermae Spa is unmissable. Trust us, it's just a stone's throw from our office, so we should know!