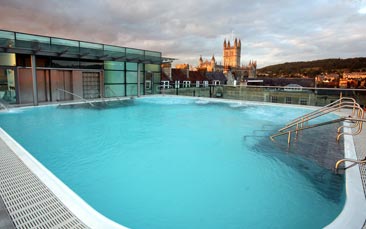 Here at GoHen, we know more than most that planning your perfect wedding day can often be stressful. Sometimes the perfect tonic after all that wedding planning can be to just switch off and drift away, well there's nowhere finer to do that than the mineral-rich waters of UK's only naturally heated thermal spa. Our Bath spa session is ideally suited and being just a stone's throw from GoHen's office we know it very well indeed. You and the girls will be pampered to the max.
You and the girls will be pampered to the max. Located in the centre of the beautiful world heritage city, the spa includes a rooftop pool with amazing views of the city's skyline. There's also a set of modern, scented sauna rooms where you can wash away all those wedding worries and there's a beautiful thermal pool complete with a relaxation area and Jacuzzi. You certainly don't get many chances to relax in mineral waters that are heated within the earth's crust.
The naturally warm water here is rich in minerals, a perfect natural treatment for your skin ahead of the big day. If all of that doesn't quite satisfy your spa itch, then you can always add a few treatments on, from a relaxing hot stone massage to an immersive rainforest shower.
This is a great opportunity to catch up with the girls and have some gossip and giggles in a serene and gorgeous location as you wash all your worries away. Our two-hour session is suitably soothing and does feel rather decadent, and is sure to put a huge smile on the bride-to-be's face before her big day!